ARCHIVES
SUBSCRIBE
EVENTS SCHEDULE
February 10, 2012


IFA Convention, Orlando, FL

April 24, 2012


Multi-Unit Franchising Conference, Las Vegas, NV

June 26, 2012


Franchise Consumer Marketing Conference, San Francisco, CA

October 3, 2012


Franchise Leadership & Development Conference, Atlanta, GA
RECOMMENDED
The #1 Must-Ask Question of Social Media

With the explosion of social media outlets and the craze that has followed, companies have jumped on the bandwagon hoping to reach out to consumers. Unfortunately, many companies haven't quite mastered the art of effectively and safely using social media outlets. Yet.
Yes, I said effectively AND safely. Social media messages can be ineffective with your followers and even dangerous to your brand if you're not careful.
Thus, I'd like to introduce you to one of the single most important questions to answer when engaging in social media and the one that's behind most of the social media blunders today who is going to run your social media campaign:
Who's actually going to manage your social campaign?
By answering this one question, not you'll go a long way towards safeguarding your brand and your reputation from damage — accidental or intentional.
Many companies today outsource their social media creation and management to public relations firms, advertising agencies and more. You pay these companies for their expertise and in return you get what hopefully is an awesome and incredibly cost-effective social media presence.
But, do you actually know who is representing your brand? Does this person know what's happening with your company? Do they even care?
In the land of social media, too often people craft messages more quickly and with less consideration than they would with more traditional forms of communication. That has spelled disaster with some high profile social media scandals.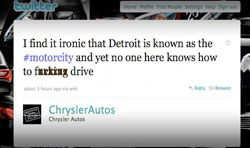 Take for example Chrysler Autos.
On March 9, the @ChryslerAutos Twitter account tweeted this message:
"I find it ironic that Detroit is known as the #motorcity and yet no one here knows how to f****** drive."
Considering Chrysler's history and relationship with Detroit, this message was a complete social media disaster for the company. In twenty-one words, Chrysler went from the Motor City defender to just another critic.
How could this happen?
At the time of the tweet, Chrysler was using New Media Strategies to develop and maintain their Twitter account. The New Media Strategies employee who created the tweet actually meant to publish it on his person Twitter account.
In the wake of the tweet, the New Media Strategies employee who published the tweet was let go and Chrysler did not renew their contract with the social media marketer.
Chrysler learned a valuable lesson amid the scandal...and so can you...
It is imperative that you know who is creating and publishing your social media content!
That doesn't mean your company, or any other, can't outsource your social media outreach. You just have to be smart about it. Know who is creating and publishing your social media content. While you're at it, take strides to limit the number and powers of those people.
The more vigilant you are today, the better your chances are that you'll avoid becoming the next social media scandal.